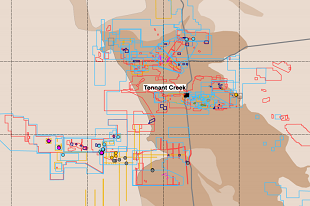 NTGS has performed an audit of geophysical data available in digital format over the Warramunga Province and surroundings, encompassing the Tennant Creek mineral field and the Rover field, to assist industry locate and utilise the NTGS archive of geophysical data in the region.
The supplied GIS files show geophysical survey extents and include tabulated survey information for the airborne magnetic (+/- radiometric), ground gravity, airborne electromagnetic, ground magnetic, ground electromagnetic, resistivity/induced polarisation, downhole, and other geophysical surveys. A number of grids and enhanced products are supplied for magnetic and gravity data in ERmapper format, and reprocessed gravity data in ASCII (csv) format.
Download DIP032: Compilation of industry geophysical data over the Tennant Creek and Rover mineral field from GEMIS.