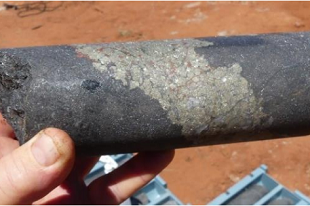 Round 14 of the Geophysics and Drilling Collaborations (GDC) program saw the addition of brownfields drilling programs testing conceptual targets near known resources to help support the discovery and development of resources in the Northern Territory.
Molyhil Mining Ltd, a subsidiary Thor Mining PLC, designed their co-funded program targeting an untested interpreted magnetic target from 3D modelling south of existing mineralisation. The second hole in the program (21MHDD002) intersected 45 metres of sheelite, molybdenite and chalcopyrite mineralisation within a magnetite skarn. Initial interpretation of the new discovery suggests a potential south plunging lode extending south of the Southern lode with a possible offset. The south plunging lode is open at depth. After the success of the second hole, a third hole is now planned to test the geological plunge of the mineralised intercept. Thor expects assay results in early 2022.
Read Thor's recent announcement for full details.
The final report and all analytical data for the co-funded program will be available in mid 2022 through GEMIS.
For more information on round 14 of the GDC program, visit exploration grants.