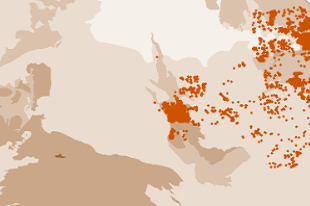 A major program of the Resourcing the Territory initiative is to capture all remaining legacy open-file exploration drilling and geochemistry data across the Northern Territory. The current release includes legacy data from the Tennant Creek and Barkly region, which follows on from the successful data capture across the McArthur Basin in 2018-2019.
The latest release of legacy drilling and geochemistry has digitally captured data from over 1,275 company reports. This data includes 44,906 drillhole collars, with 178,529 geochemical assays from these drillholes. A further 75,691 surface geochemical assays (including stream sediment, soil and rock-chip geochemical analyses) have been captured and spatially geolocated.
Since the Resourcing the Territory initiative commenced legacy data has been captured from 2,732 company reports. With 115,240 drillhole collars, 522,943 drillhole samples and 217,906 surface geochemical samples added to the Northern Territory Geological Survey (NTGS) Drilling and Geochemistry database.
NT Geochemistry and Drilling Data Package layers are provided in ESRI SHP and geodatabase (for drillhole sample assays), MapInfo tab and csv file formats, bundled into ArcMap document file (mxd) and MapInfo workspace (wor) respectively for ease of use.
DIP001: Northern Territory geochemical datasets can be downloaded through GEMIS.