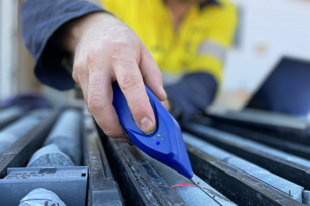 The 1,750 metre deep stratigraphic drill hole was completed in 2020 as part of the MinEx CRC National Drilling Initiative (NDI) in collaboration with Geoscience Australia and NTGS. A comprehensive suite of analyses was designed to test the resource potential of the newly discovered Carrara depocentre in the South Nicholson region. Analyses includes geochronology, isotope studies, mineralogy, organic and inorganic geochemistry and more.
Geoscience Australia has now released the first geochemical results from the hole. The report contains total organic carbon (TOC) and Rock-Eval pyrolysis analyses undertaken on 313 rock samples to establish their total organic carbon content, hydrocarbon-generating potential and thermal maturity. The report is a partial release of the data from 42 metres down to 1,600.5 metres. The remainder of the data will be released in the coming months.
To download the report and data visit Geoscience Australia.
To view the full announcement visit MinEx CRC.