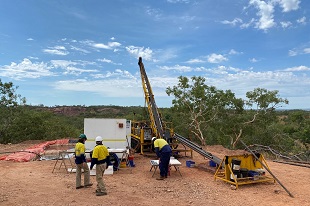 The expansion of the eligibility criteria for round 14 of the Geophysics and Drilling Collaborations (GDC) program saw the inclusion of brownfields drilling programs testing conceptual targets near known resources, especially at depth.
The first brownfields co-funding diamond drill hole (VB21-012) has now been successfully completed by Vista Gold Australia Pty Ltd with initial results released. The hole was drilled to 900 metres depth with the aim of understanding the geology north of the Batman deposit and identifying potential for resources that may extend the life of the proposed Mount Todd mine. The co-funded hole forms part of a broader exploration program by Vista, verifying continuous gold mineralisation extending over 1.4km northeast and down dip more than 400 metres from the Batman deposit. Read Vista's recent announcement for full details on the initial results.
The final report and all analytical data for the co-funded hole will be available in February 2022 through GEMIS.
For more information on round 14 of the GDC program, visit exploration grants.