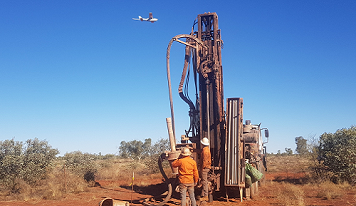 The Geophysics and Drilling Collaborations program co-funds approximately $1million in funding for selected exploration programs that seek to explore greenfields areas of the Territory or support brownfields drilling towards resource development.
The program provides co-funding assistance for half of the eligible direct program costs capped at:
$125,000 for selected greenfields diamond drilling programs, and
$100,000 for selected brownfields diamond drilling, greenfields reverse-circulation (RC) drilling and geophysical acquisition programs.
The Territory Supplier Incentive offers an additional $10,000 of co-funding per project to engage Northern Territory (NT) enterprises to complete works in the NT.
All amounts specified throughout are inclusive of GST.
Round 14 applications close 4th May 2021.
Read the guidelines and apply online through GrantsNT.
Contact collaborations.ditt@nt.gov.au for all applications enquires or phone 08 8999 5424.