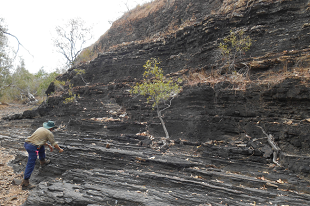 NTGS is undertaking an assessment of the resource potential of shale units within key onshore basins in the Northern Territory, particularly within the greater McArthur Basin. The work involves compiling key parameter data to assess potential for hydrocarbon and mineral resources. The data is sourced from open file company reports, core sampling reports, government publications, and new analyses from stored drill core held at NTGS Core Facilities and Geoscience Australia.
The updated DIP014 includes significant increases in data since the last release.
25% increase in total number of samples analysed (total 10147)
25% increase in TOC analysis (total 9146)
29% increase in pyrolysis analysis (total 7358)
46% increase in SRP analyses (total 301)
23% increase in XRD analyses (total 1200)
2% increase in elemental kerogen analyses (total 521)
36% increase in petrology and reflectance analyses (total 301samples)
83% increase in rock mechanics (total 47)
13% in sorpotion isotherm data (total 13)
44% increase in whole rock geochemistry (total 922).
Download DIP014 through GEMIS.