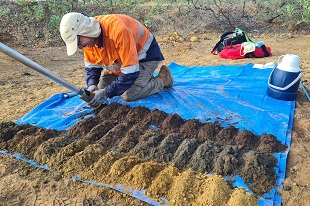 NTGS are commissioning the MIWATCH (Mine Waste Transformation Through Characterisation) team at Sustainable Minerals Institute, University of Queensland to undertake a project to characterise mine waste from key deposits in the Pine Creek Orogen. The study will have particular focus on the potential for critical minerals.
The MIWATCH team and NTGS geologist Pablo Farias have been on site in Pine Creek sampling material at PNX Metals Ltd's Iron Blow and Mount Bonnie deposits. This part of the study will characterise remaining in situ massive sulphides and any critical minerals potential in the tailing and waste rock. More key deposits across the Pine Creek Orogen will be sampled in late 2022.
For more information on the project's progress visit MIWATCH's website.