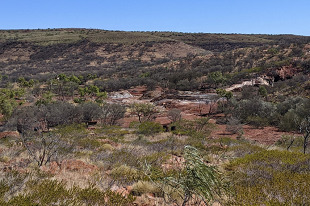 NTGS has released a new record characterising the Home of Bullion deposit, a copper-lead-zinc ( silver-gold) deposit located 28 km east of Barrow Creek, central Australia. Approximately 1000 t of copper was produced from Home of Bullion between 1923 and 1951 making it one of the largest copper mines in the Aileron Province. Despite its history, the style of mineralisation is still under discussion. This record presents new results from field observations, petrography and whole rock geochemistry, together with published geochronology data, to constrain the timing and style of mineralisation to volcanic massive sulphides (VMS) at Home of Bullion.
The deposit consists of four stratiform lodes hosted by the Palaeoproterozoic metasedimentary and metaigneous rocks of the Bullion Schist. Sulfides and silicates in the massive sulfide mineralisation are foliated and in metamorphic equilibrium, indicating mineralisation predates metamorphism and deformation. Geochronology indicates metamorphism occurred within ~20 my of deposition of the Bullion Schist, implying mineralisation is likely near-syngenetic. Alongside the whole rock geochemistry from the deposit and its footprint, these characteristics are consistent with a siliciclastic-mafic type volcanogenic massive sulfide deposit that forms in extensional environments with clastic sedimentation such as back-arc basins.
Download the NTGS Record 2022-008: Characterising VMS mineralisation at the Palaeoproterozoic Home of Bullion copper deposit, Aileron Province, central Australia from GEMIS.